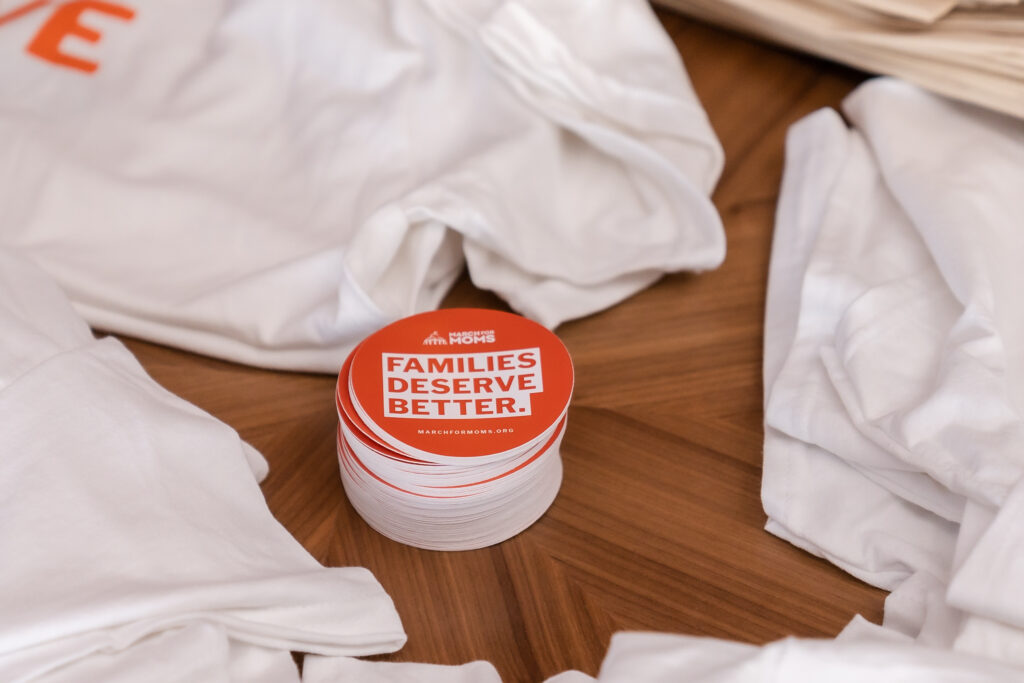 March for Moms continues its mission of empowering family advocates in their communities on the state and national level. During the current legislative session we focused on these pillars of legislative support: equitable access to care, prenatal and postpartum period support for birthing families, investments in community based care, and reproductive rights.
Equitable access to care ensures that all people have access to healthcare including access to providers, medical insurance coverage for services tailored to moms and birthing people, screening, and abortion care. Prenatal and postpartum period support is crucial for families after the birth of their baby. Time and time again, research shows that this is the most vulnerable time for moms in terms of medical complications such as hypertension (high blood pressure), infection, and depression and suicide risk, as well as many other challenges. Community based organizations are often the first on the ground responders in times of crisis as well as during everyday challenges. Hospitals and health departments often refer patients and clients to such services because they know the quality and value of community based care. Families also trust community based organizations because they are often staffed and run by local community leaders and are easily accessible. March for Moms supports legislation that would ensure access to childcare and doula support as well as continued its commitment to supporting CBOs.
2023 Advocacy Pillars
Postpartum period support for birthing people and families
Equitable access to culturally, congruent care
Investments in community-based organizations
Prenatal-5
Reproductive rights
2023 Coalition Affiliations
National
National Collaborative for Infants & Toddlers (NCIT)

United States Breastfeeding Committee

Global Liver Institute's Pediatric and Rare Liver Disease Council

Pregnant Workers Fairness Act Coalition 

Maternal Applications Of Technology For Community Health (MATCH) Coalition

Georgetown Waiver Task Force 
State
Louisiana Alliance for Nonprofit Organizations

Louisiana Region 3 Maternal & Child Health Community Advisory & Action Team

East Baton Rouge Parish Maternal and Infant Health Coalition
Association of Maternal & Child Health Programs (AMCHP)
Maternal & Child Health Bill Tracker
Click the picture to access.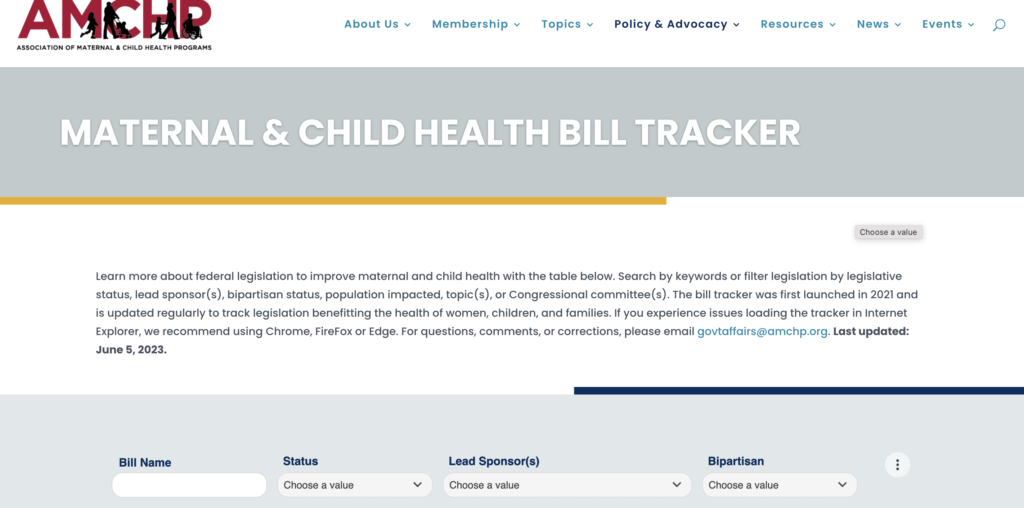 March For Moms 2023 Advocacy Activity
State
Name
Description
Document
Outcome
New York
Paid Family Leave After Stillbirth
Ensures paid family leave for families affected by stillbirth.
Bill
Georgia
SB 106
1. Increases access to maternity care using remote maternal health clinical services in pregnancy. 2. Provides a 3-year pilot program for remote monitoring services to eligible pregnant individuals covered by Medicaid.
Letter of support
Passed
Massachusetts
H669/S4222
Permits parents to use campaign funds for childcare.
Bill information
Ohio
H.B.33 Main Operating Appropriations Bill
Requires the Medicaid program to cover remote ultrasounds and remote fetal nonstress tests. Requires ODM to adopt rules to implement this coverage requirement.
Letter of support
Federal
Name
Description
Document
Outcome
Request
USBC Welcome Letter to Congress
Welcome Letter to Congress calls on Congress to advance these five policy priorities: federal funding for breastfeeding, infant nutrition security, access to lactation support & supplies, workplace protections, and maternity care.
Sign on Letter
Request
Free The Pill
Urged FDA commission to schedule hearing to Free the Pill , i.e. provide oral contraceptives over the counter.
Letter
Appropriations
Surveillance for Emerging Threats to Mothers and Babies (SET-NET)
Urged to provide $100 million for the Surveillance for Emerging Threats to Mothers and Babies (SET-NET) at the Centers for Disease Control and Prevention (CDC)
Sign on Letter
Appropriations
MCH FY24 Title V Appropriations
Friends of MCH FY24 Title V Appropriations Letter calling for renewed funding for Title V grant to design and implement a wide range of statewide and community-level maternal and child health programs to fit the needs of their specific populations.
Sign on letter
Legislation
Women's Health Protection Act (WHPA)
Support the Women's Health Protection Act (WHPA), which would create a statutory right for health care providers to provide abortion care, a right for their patients to a statutory right for health care providers to provide abortion care, and a right for their patients to receive that care, free from medically unnecessary restrictions that single out abortion and impede access.
Sign on letter
Appropriations
Fiscal Year (FY) 2024 Labor, Health and Human Services, and Related Agencies appropriations
Calling for increased funding for the CDC Hospitals Promoting Breastfeeding Program in Fiscal Year 2024
Sign on Letter
Amicus brief
Alliance for Hippocratic Medicine v. FDA
An urgent amicus brief in response to the Alliance for Hippocratic Medicine v. FDA case, wherein anti-abortion actors are attempting to block the FDA's 2000 approval of mifepristone and remove mife from the market.
Appropriations
Into The Light for Maternal Mental Health and Substance Use Disorders Act of 2022 within the Consolidated Appropriations Act of 2023
Authorization request for full funding for the National Maternal Mental Health Hotline and the HRSA maternal mental health state grant program.
Sign on Letter
Request
FY24 National Defense Authorization Act (NDAA)
A letter to the House and Senate Armed Services Committees and requests the inclusion of two reports on maternal mental health in the FY24 National Defense Authorization Act (NDAA)
Sign on Letter
Legislation
Anti-Racism in Public Health Act of 2023
The Anti-Racism in Public Health Act takes a federal stance on this crisis by declaring racism as the public health crisis that it is and confronting it head on through the development of two new initiatives at the CDC.
One-pager
Legislation
Black Maternal Health Momnibus Act
Signed on as supporter of Momnibus 2.0, a collection of bills to address the maternity care crisis through historic investments that comprehensively address every driver of maternal mortality, morbidity, and disparities in the United States.
Bill
Legislation
Family and Medical Insurance Leave (FAMILY) ACT
The FAMILY Act has changed significantly from last Congress to incorporate a number of key policy changes that bring it more in line with the paid leave title of Build Back Better, plus some additional improvements.
Sign on Letter
Legislation
Midwives for MOMs Act
Signed on to support the Midwives for MOMs Act, which aims to address the maternal and infant mortality crisis by increasing the number of trained midwives in the United States.
Sign on Letter
Legislation
PREEMIE Reauthorization Act of 2023
Vital legislation to reauthorize and expand research, education, and intervention activities related to preterm birth.
Sign on Letter
Legislation
Right to Contraception Act of 2023
Legislation to protect an individual's ability to access contraceptives and to engage in contraception and to protect a health care provider's ability to provide contraceptives, contraception, and information related to contraception.
Sign on Letter
Regulatory
Save the Nursing Pillow
Call for regulatory action to consider the availability and preserve access to nursing supports for families.
Letter